The Battle of Vimy Ridge:
The Battle of Vimy Ridge was a conflict between the Canadian Corps and the German 6th Army from April 9th-12th, 1917. Vimy, located in France, was seized by the Germans early on in the First World War, and quickly fortified. Vimy was charged twice by French troops in 1915, but on both occasions the French failed, with a combined total of approximately 150000 casualties. After these attempts, British forces took control of the front line until October 1916, when Canadian troops arrived. Shortly after the arrival of the mostly untested Canadians, planning for a spring allied offensive began. The Canadian Corps were assigned to take Vimy and reconnaissance and preparation continued throughout the winter, leading up to the attack.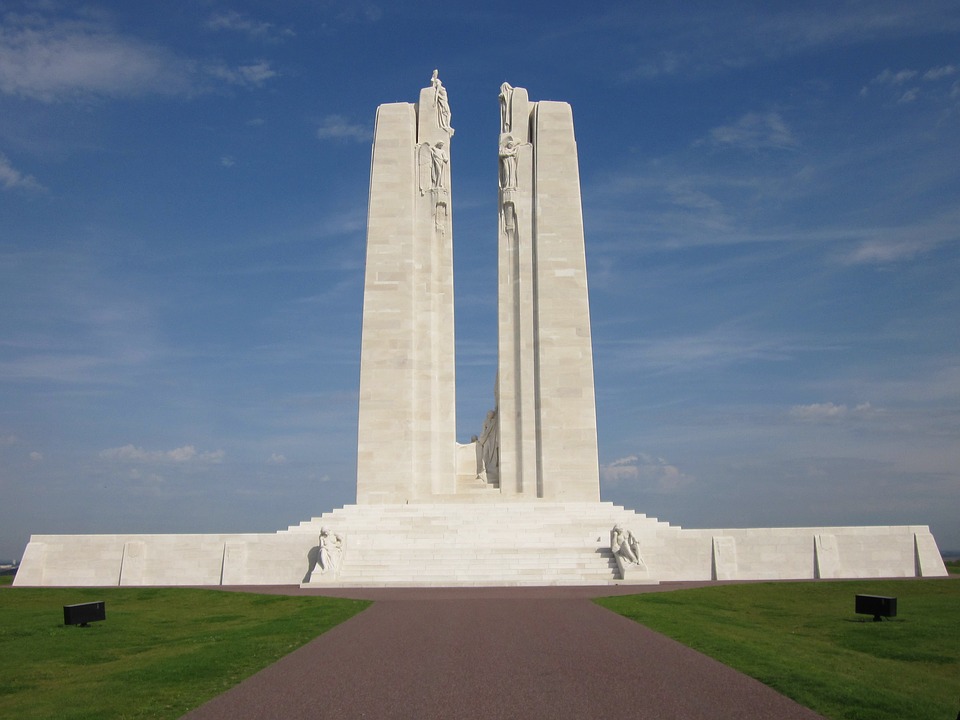 The Vimy Memorial in France.
The perspective most Canadians alive at the time of Vimy was that it was a great success. Newspapers such as the Canadian Press heaped praise among those who fought in the battle, bragging about how tanks had "little to do" and how troops had cleared the ridge in just seven hours, while also referring to the seizure of the ridge as "the supreme moment". Although wildly celebrated and glorified at home, Vimy was looked upon less fondly by the participants. One soldier was quoted as saying that Vimy was like "the Somme's most terrible day multiplied by five." Despite this, both soldiers and citizens of Canada both looked upon Vimy with feelings of pride and sadness, as although it was a great victory for Canada, over 10000 casualties were recorded during the battle.
Vimy affected Canada very much socially. Having all of the Canadian divisions together for the first time, under a Canadian leader helped raise morale at home and abroad, as it symbolized the country fighting on a united front. It also showed the world that Canada was not just merely a meek British puppet, but a strong, independent nation that could carry its weight, and fight its own battles. Vimy demonstrated a shift in Canadian social identity, away from British dependence, as the Canadians prepared and fought with little to no assistance from the major powers, which had not happened before.
Canadian troops in the trenches at Vimy
Vimy contributed to Canadian social autonomy because it displayed a nation coming out of the shadow of their colonial ruler and taking their rightful place on the world stage. King George himself even made an announcement specifically to Canadians, stating that "I heartily congratulate you (Canadians) and all who have taken part in this splendid achievement." No dominion had ever been recognized personally by the king until the Canadians took Vimy ridge, which marked a move towards Canada's recognition as a state autonomous of Britain. After Vimy, Canadians showed a desire to be independent from Britain that was stronger than ever before, which resulted in Canada being granted full independence in the years after the war.